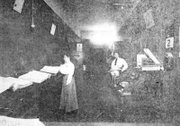 A hundred years and counting. That's how long a local business has been flourishing.
In 1909, a man by the name of Steve Schreiner opened the doors of Schreiner Abstract and Title Company in an office space of Sunnyside's Boutell Building.
That was January. Schreiner hired his first employee February of that same year.
Roger Garrison said, "The Schreiners are true pioneers...Garrison Law Firm is its longest continuous client." He said his predecessor, Oscar Boose, became a client of Schreiner Title Company in 1909 and the law firm has never ceased its relationship.
Boose married Schreiner's first assistant, Emma Louise.
The company flourished as the Yakima Valley experienced a real estate boom and all titles and abstracts were handwritten or typed in the early days of the company.
The Schreiners lived on Columbia Avenue through the 1960s.
Schreiner Abstract and Title Company became known as Schreiner Title Company when it moved to Yakima in 1935 while abstract companies were being phased out, according to Roger Garrison.
Today, the company remains family owned and operated, as many of Schreiner's descendants are on Schreiner Title Company's board of directors, according to its manager Mark Quinn.
Quinn said he is the third manager of the company, but the first non-family member to do so.
The company researches and insures titles. It also handles closings and recordings when a property changes ownership.
In 1959, many of the company's recordings were on microfilm. With today's technology, much of the recordings are handled via computer and the company has expanded to include an office in Sunnyside. That office, opened in the spring of 2001, employs two people.
"Our Yakima office was first located in a building occupied by the Yakima Herald. We purchased our current location on Second Street and expanded to include an old grange building in the 1950s," said Quinn.
He is proud of the company's heritage and said it is rare that a title company is operated by family members for as long as Shreiner Title Company has been.