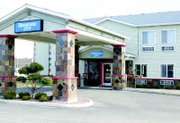 With a hot breakfast offered free every morning and more than 75 channels on the TV, including premium channels, the Rodeway Inn in Sunnyside was recently named a recipient of the 2008-09 Gold Hospitality Award from Choice Hotels International, Inc., the franchisor of the Rodeway brand.
"We are very proud that the Rodeway Inn hotel has received this distinguished honor," said Steve Joyce, president and chief executive officer for Choice Hotels. "This hotel's commitment to outstanding guest service has earned it this well-deserved recognition as one of the best of the best within the Rodeway brand."
The award means that the Sunnyside Rodeway Inn has consistently scored above average numbers in customer satisfaction and quality assurance reviews, according to Rocco Loverro, a spokesperson for Choice Hotels.
"On our website an emblem will be added to their hotel profile identifying them as Gold Award winners," Loverro added.
Sun Kim, who built the Rodeway Inn 11 years ago, said the award feels great to get and was a pleasant surprise.
"We go that extra step from what the customers ask," Kim said, explaining his hotel's high customer service marks. "We always tell the customers if they need anything we will take care of it."
The hotel has 49 rooms serviced by nine employees. Besides offering a wide array of television channels in each room and a free, hot breakfast, Kim said customers can receive free incoming faxes, free internet and can take advantage of an indoor pool and spa, including exercise equipment.
Kim said he also offers free cookies or a bowl of soup every night to his guests.