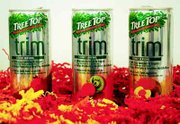 For those seeking to promote a healthy lifestyle, maintaining weight and obtaining nutrients essential for energy and metabolic balance, Tree Top has recently released a beverage to meet that need.
The new beverage, Trim, is available in three great flavors. They include mango peach, pomegranate blackberry and strawberry kiwi.
I recently had the opportunity to enjoy these three different beverages. The mango peach reminded me much of nectar beverages. If you enjoy those drinks, this flavor is a great choice. It is flavorful and isn't too heavy on the tongue.
The pomegranate blackberry was my favorite. I enjoy particularly sweet drinks. I consumed approximately half of the eight ounces of the juice before actually getting the full effect of the flavor, however. By the time I was finished (eight ounces is not meant for refreshment in my book), I wanted more.
The strawberry kiwi is pleasing to the palate and both flavors are easily detected when consuming this particular drink.
Tree Top has created a beverage blended of juice concentrates that is only 60 calories, provides a person with fiber for the promotion of a feeling of being full and to regulate blood sugar. The beverages also contain chromium to help the insulin in the body and to assist a person's metabolism.
The appetite is suppressed by hydroxycitric acid, which also assists in inhibiting fat while 20 milligrams of L-Carnitine converts fatty acids into energy.
Each eight-ounce can boasts one serving of fruit, which is typically high in natural vitamins and minerals. I looked at the label, however, and discovered one cannot expect to get their vitamin C from these beverages. You will need to eat the actual fruit for your daily dose.
Otherwise, for a quick pick-me-up and a tasty treat, these beverages fit the bill and may help you skip your next snack.