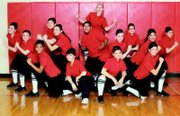 Thanks to some creative coaching, determination and perseverance, the Sunnyside Grizzliette Dance Team will head off to State competition on March 27.
"I decided back in July and August 2008, along with the captains, what categories we wanted to attempt to compete in," explained Coach Melodie Griffin.
Once the choreography is complete, the dancers must then compete in two WIAA sanctioned competitions in each category and score a set amount of points to qualify for Regional competition, then District competition.
Of District competition, Griffin said, "We have one opportunity to perform each routine (and qualify), and we have to score 210 or better. We scored 217 in pom and 215 in hip-hop, which gave us a second place finish in both categories."
Even though Griffin had a vision, things didn't go smoothly at first.
"I feel the team's attitude and their determination to succeed improved," she said. "At the beginning of the year, we started out rocky. There were some individuals who weren't willing to put in the work. As the season went on, I lost one of my best dancers to (an injury)."
That, she says, was a turning point.
"I made a coaching decision to have winter tryouts to attract individuals who couldn't participate in the fall to do sports, but could come out in the winter," Griffin said.
Simply put, she says, "I lost a few but gained a new group of hard working athletes, including a gymnast, our first male and foreign exchange student from Italy."
Her new team was then ready to practice during the week at 5:30 a.m. and up to five hours on Saturdays.
Griffin said reactions to earning a shot at State are mixed. Some dancers feel accomplished, others aren't surprised at all.
"Knowing how hard they worked all year long, they knew it would all pay off. As for the first year members, they're just exuberant."
Griffin said she's delighted with the community support her team has received this year.
"There are many businesses, SHS parents, community members and peers who have always believed in the Grizzliettes."
Of her team, Griffin said, "(Their) vigorous exercise, their commitment and dedication, and the will to win, would inspire anyone."
State competition will take place at the Yakima SunDome on Friday, March 27. Doors open to the public at 12:30 p.m. Tickets cost $9 for adults, $7 for students with ASB cards and senior citizens. A one-day pass costs $15 for adults and $10 for senior citizens and students.