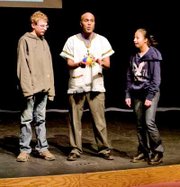 Mawi Asgedom could be any successful American you see walking down the street. He's smart, funny, engaging and polite, just what anyone would expect from a Harvard graduate who has written several books.
But things weren't always so peachy for Asgedom, who had to work hard to make sure his dreams were achieved. He encouraged students at Sunnyside High School to do the same when he spoke to them yesterday afternoon.
"I'm not just here to tell you my story," Asgedom said. "Each and every one of you has your own story. This is about all your stories and what you want to accomplish in life."
He followed this by saying, "Check?"
The students answered back the same way, their way of letting Asgedom know they were all on the same page.
To break the ice he did an exercise that would let him know all the students' names. To do this, he had everyone start yelling their names as loud as they could. The students who shouted their name the loudest received a shirt Asgedom said he had brought from Ethiopia.
Asgedom is a renowned author and public speaker. He travels to schools around the country telling students about his remarkable journey from a refugee camp in Sudan to being the keynote speaker at his Harvard graduation.
Asgedom was born in a civil war that ravaged his home country of Ethiopia. With five rebel groups, plus the country's army, the situation in Asgedom's family was perilous. Soon the family was split up while fleeing the war. Without his father, Asgedom, his siblings and his mother walked for 10 weeks to a refugee camp in Sudan.
"She didn't stop," he said of his mother. "She couldn't stop. She knew what would happen to her family."
Once Asgedom's family made it to Sudan they were lucky to have reunited with his father. After three years of living in the camp, Asgedom said the World Relief Organization helped get his family to the United States.
He said he was extremely lucky. His family knew one lady in the camp that had lost nine of her family members. She was the only one left from her family.
Asgedom went from the squalor of a refugee camp to living in a Motel 6 outside of Chicago.
"The biggest thing is we were together," he said of his family. "We had all made it. We found our father and were able to come to the United States."
It wasn't easy after that. Asgedom said it was a challenge learning the English language and fitting in with the American students. More than once Asgedom and his brother came home bruised and bloodied from getting into a fight.
It was his father's advice that made a huge impact on him. Asgedom said his father told him and his brother that it was much more important to be in school than not be in school. If they had to make a choice to either fight back or stay in school, they better come home bruised.
Asgedom then challenged the Sunnyside students to have some purpose in life, to think of some goals and write them down.
"You have to step up and fight for your goals," he said. "I never thought I would go to Harvard. I never thought I would do some of the things I've done. Whatever you imagine you can do in four years, in reality you can do something five times greater than that."
After the session students who had attended received a free copy of one of Asgedom's books, Of Beetles and Angels: A Boy's Remarkable Journey from a Refugee Camp to Harvard.
More like this story