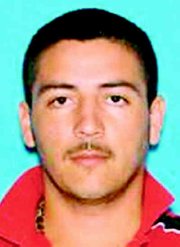 An arrest warrant has been issued in connection with the homicide of a man whose burned body was found in a vineyard near Sunnyside in mid-February.
Police have identified and are looking for Jose Luis Rodriguez-Guzman in connection with Saul Carvajal Duarte's death.
Rodriguez-Guzman's whereabouts are unknown and police believe he may be driving a white Dodge Stratus with a license plate number of 936STN.
Police advise the suspect also has aliases: Rojelio Martinez-Mata, Marcos Reyes-Rivas, Marcos Reyes and others.
Anyone with information is encouraged to call the sheriff's office at 574-2500.