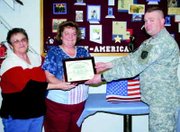 GRANDVIEW - Last night (Wednesday) the efforts of the Grandview VFW Ladies Auxiliary to support troops serving overseas was recognized by the 792nd Chemical Company based out of the Grandview Army National Guard Armory.
Auxiliary Chaplain Louise Bianchi said her organization has been working on projects to support the men and women serving in the U.S. Armed Forces for several decades. The latest project garnered attention as it was the culmination of three years worth of work.
The VFW Ladies Auxiliary worked together with the men's auxiliary and VFW club members to send a total of 98 care packages to the Grandview troops in Iraq.
Bianchi said Specialist Andrea Wysock served as Santa when the packages arrived in Iraq this past Christmas. She hand-delivered each of the packages to the soldiers in her group.
The packages contained items that are considered basic essentials for the average person, such as toothbrushes and soap. "We provided a personal touch," said Bianchi, stating those who packaged the items for the troops added hard candies, Little Debbie snacks that had been donated for the cause and several edibles donated by Grandview's Wal-Mart Distribution Center.
Bianchi said there were two members of the auxiliary who deserve special recognition for their efforts. Coralea Farris-Pickett and Allison Fuller were able to garner two $1,000 grants from Wal-Mart. Pickett convinced the Sunnyside Wal-Mart store to contribute one grant and the other grant was courtesy of the distribution center.
"Coralea pounded the pavement with me," said Bianchi, stating the care packages would not have been a possibility without the hard work of those who assisted in the project. She said the grants were useful in providing more than $700 in postage for the care packages.
Committing themselves to projects such as this most recent one is what VFW and its auxiliary is about, according to Bianchi. She said, "I thank God each and every day for the men and women who serve our country...fighting for freedom worldwide."
Bianchi said the VFW serves to honor those willing to serve in the military, both at home and abroad.
What she wants the community to know is her organization is willing to serve the needs of the troops.
Because of that devotion, the 792nd Chemical Company recognized the efforts of those at the Grandview VFW and its auxiliary with a "Minute Men" award.