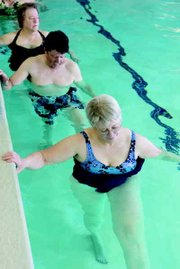 Running on rough streets can sure play havoc on the knees. There is an old saying, "No pain, no gain." But what's the worth of the gain if you're constantly in pain?
"In the water there is no pounding on the body," said Esther Weddle, a water aerobics instructor at Valley Racquet & Fitness Club in Sunnyside.
Weddle, who is 80-years-young, said that water aerobics have been very good to her.
"I was told several years ago I should be in a wheelchair," she said. "That's why I do it, for me. I love it. I love exercising and I'm a water bug."
Weddle and Mary Lou Ribail, another instructor in the class, take students through the exercises four days a week for one hour each day. The students range in age, including a few in their 80s. She says because of that, no one can use the excuse that they are too old for water aerobics.
Weddle has been taking the class for 15 years and has been an instructor for the past seven years.
"We do a lot of exercising of our jaws," she quipped. "There is lots of communication. It's just a marvelous group."
Because the group is so spunky Weddle joked that she can't take her eyes off them. She said she has to keep on top of them constantly or the students can get a bit unruly.
The group starts out with stretching exercises in the water.
"We try to stretch every part of our body," she said. "We then get into some light and then heavy aerobics."
She said each student is encouraged to do what their bodies allow them to do. Students don't need to know how to swim. That isn't the point, Weddle said. Exercising is the object of the class.
The class size ranges between three and 18 students. Weddle said it really depends on the day and what is going on in the world.
But everyone is welcome.
"We're trying to get people interested," Weddle said. "We want people that are interested in coming to exercise."
The cost of the class is $40 for a month and Weddle said sometimes insurance companies will cover the expense. She urged people to look into that.