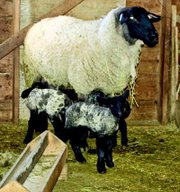 PROSSER - Prosser sheep farmer Dave Padgham was in for quite a surprise a few weeks ago when not one ewe, but two, gave birth to sets of quad lambs.
"It's not the usual thing, but it happens," said Padgham. "I'll never know what causes it. You just accept what you get."
One of the baby lambs in a quad set died, despite Padgham's diligent efforts.
"He was kind of a weak little fella," he said. "I tried to bottle (feed) him, but I lost him."
Padgham, a Sunnyside native, has been raising sheep all of his life.
"I like sheep, I like livestock. I always have," he said. "It's just been a lifelong project for me."
Padgham is retired from, as he puts it, several things. He enjoyed a career in farming, as well as teaching.
Today, he tends to two acres, raising sheep and selling them.
"I also raise a garden," he said.
Padgham raises Suffolk sheep, a breed he prefers because they don't have wool on their face or legs, which means there's no problem with burrs.
"That's why I like 'em," he said.
Even though the quad baby lambs look spotty in color now, he said they will grow up to have white bodies and black faces.