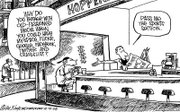 I'm a newspaper junkie. I love to read news stories both online and in print. Because of my appreciation for solid reporting, it's astounding when people that I interview request to see what I'm going to print before it goes to press.
Do you like to read news stories? Could you imagine what you'd be reading if every person interviewed was granted the OK to edit their words?
When I was a cub reporter many years ago, I saw nothing wrong with granting the request. I'd bang out my copy and share it before it went to press.
It didn't take long before I learned why this is bad practice. Suddenly, my words were out of order, my voice as a reporter lost. What I had written would become stiff and inflexible, and, well, basically over edited and unnatural.
We're not even talking about potentially controversial stories. I handled little to none of those in my cub days.
Granted, there are times when I'll be writing about something, maybe an insect whose name I can't pronounce let alone spell, and I will have to copy and paste that into an email, send it off and get some fact checking done. And sports stories, too. I don't understand the terminology so at times I have to run it by someone so as not to make an ass out of myself.
Usually though, once me and the person I've interviewed are done with our dialogue, then it's up to me to put the pieces together and tell the story.
It's the best way to keep things real.