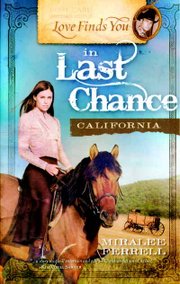 Reading books that are historical is generally something I typically don't enjoy. I often find it hard to absorb the data and I am a woman who would rather keep myself planted in today's world...a world to which I can relate.
I must make an exception for Love Finds You in Last Chance California. This book, set in 1877, kept my interest and helped me learn a little about the past at the same time.
The setting is Last Chance, Calif., a town no longer in existence. It was once a thriving gold mining town in Placer County. But, like many other towns of its kind, it faded into the archives.
Author Miralee Ferrell traveled to the former location of the town and weaves her story with great facts intermixed with fictional characters.
Her antagonist, Alexia Travers, is a woman whom many of today's women can relate. She was a little modern for her time in that she insisted on wearing "trousers" and was independent by nature.
Her father suddenly passes, leaving his horse ranch to the young, but spirited Alexia. As she sets out to handle the affairs of operating a ranch, she discovers her father left her with a few surprises. He mortgaged the ranch in hopes of improving its stock, made arrangements for new horses to arrive and took with him the only known location for a gold find on the property.
Alexia's father also summoned assistance from wrangler Justin Phillips, who fails to disclose the details of his arrangement. Shortly after Justin's arrival things at the ranch begin to go awry. Fences are cut, horses are missing and ranch hands leave. Phillips, a widower, and his young son slowly earn the trust of the townspeople and of Alexia.
Alexia struggles with the disdain of the women of Last Chance and two young men are vying for her affections in spite of her polite rejections. One of the two men, intentions are less than honorable and I wanted to smack him. Alexia bothered me in this way. She is intelligent, but seemed obtuse when it came to the eager ways of her neighbor.
I also struggled with the fact that there did not seem to be a sense of urgency to finding the ranch's missing horses. I was always under the impression that people who lived in the era of the "Wild West" would seek out thieves with a sense of fevered justice or vengeance. Alexia's livelihood and future are dependent on the horses and the situation was not met with the level of importance I would expect.
The multitude of mysteries she is faced with, however, kept my interest and the historical picture painted through Ferrell's writing provided me with a better understanding of the time. I appreciated the detail that went into the book and would highly recommend it.
Love Finds You in Last Chance California was released last month and can be found on www.amazon.com. The publisher, Summerside Press, is a new publishing house and the "Love Finds You..." books are a new line of fiction being released. Summerside Press has plans for one novel per state to provide readers with a perspective on the unique characteristics of our nation's history and people.
Ferrell lives in the Columbia Gorge area of Washington state, and this is her second published book. She will be featured at a book signing Saturday, March 28, at Union Gap's Borders bookstore from noon to 3 p.m.