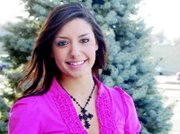 Leadership training, scholarship funds and the chance to be a role model are all reasons Maritza Licea is one of the candidates seeking the Sunnyside Miss Cinco de Mayo crown for 2009-10.
Licea, 16, is a junior at Sunnyside High School, where she is a member of the Latino Culture Club and participates in Trio, a program that assists students in seeking college grants. She has a grade point average of 2.70.
Her future plans beyond high school include attending CWU to become an elementary school teacher. "I like the idea of being around little kids and helping them out," Licea said.
She doesn't have a definite favorite among elementary school classes, but said she is leaning toward fifth graders.
Music plays a big part in Licea's life. She sings and plays the violin and sometimes joins in her father's mariachi band.
For her talent at the Cinco de Mayo Pageant - Friday, April 17, at 7 p.m. in the Sunnyside High School auditorium - Licea said she will sing mariachi music and may accompany herself on the violin.
The daughter of Norma and Antolin Licea, she said her favorite subject at SHS is American history.
If selected to the Cinco de Mayo court, Licea said a focus for her will be to encourage middle school girls.
"I noticed a lot of young girls are starting to drop out of middle school," she said. "I want to show them that high school is an opportunity to do something different in their lives."
Licea says the training and rehearsal associated with being a Miss Cinco de May candidate has taught her to "always be myself" and "be honest with others."
She says the most valuable training she's received has come from home. Licea says her parents have always taught her to look on the positive side of life.
"They told me to never give up," she said. "Even when something bad happens they say to always look for something good.