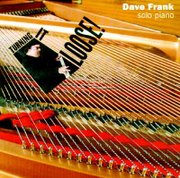 Solo pianist Dave Frank of New York shows his chops in the 2008 CD release, "Turning it Loose."
Frank has a 20-year track industry as a jazz pianist and professor, with stints at the Berklee College of Music in Boston, Mass. from 1887 to 2004 and performances at the Montreux Jazz Festival in 2001 and 2003.
On "Turning it Loose," he covers some familiar songs and introduces three of his own arrangements.
He shows his versatility on "Indiana," playing a rumbling bass chord that gives way to a big top calliope sound.
One of Frank's own compositions, "Snow Falls on Fifth Avenue," was one of my favorites, conveying an almost pastoral sense from the opening note. You can almost imagine the snowfall, the crunch of first snowfall underfoot.
Another Frank original, "Prayer at St. Patrick's," opens with an almost worshipful tone, then slows down and kind of gets lost in looking for direction.
Back to covering other songs, "Star Eyes" is also easy on the ears, as Frank presents an easy going piano solo with just enough playful chords to keep you listening and tapping your toe.
As with his original songs, sometimes Frank's covers also are uneven.
The song "Alone Together" shows Frank's range and dexterity on the piano, but its frenetic pace becomes annoying after awhile.
Same goes with the CD's first song, Dizzy Gillespie's "A Night in Tunisia." It's really engaging at first -a jazz aficionado might be able to follow it further - but it loses me. I think part of it comes from the challenges of a pianist trying to play all the parts of a jazz combo on just 66 keys.
By and large, "Turning it Loose" bears turning it loose on the CD player for a spin or two. That's especially true if you're a fan of jazz piano, which I'm not entirely.