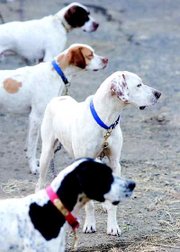 It's March Madness gone to the dogs, regional and national competitions and skills on display right here in the Sunnyside area.
The Oregon Shooting Dog Championships started this week on the 20,000-acre Sulphur Creek Ranch in the Rattlesnake Hills near Sunnyside.
Alex Mauck hails from Sandy, Ore., and he said the shooting dog competition is a field trial that judges dogs trained to not only locate chukar, a quail-like bird, but to sit still when the birds are flushed out by hunters for another round of trials.
The birds are not shot during the competition now underway, Mauck said. Dog owners and judges monitor the dogs' success by following on horseback. As he loaded up a saddle, Mauck said Tennessee Walkers are good horses for this kind of activity because of their calm, consistent gait.
There were 22 dogs entered in this week's Oregon championships, but the total number of dogs competing here will reach 150 over the next couple of weeks as national field trials and championships get underway.
Rick Anderson owns the ranch and he said the field trials have been held here since 1959, making this the 50th anniversary. Hosting the trials means Anderson, his family and crew have to move some of the cattle around on his farm. But it's not too big a job, he said. "They don't usually bother anyone," he said of his cattle.
Anderson's daughter, Amy Means, said the field trials generate a considerable amount of revenue for Sunnyside merchants.
It's estimated that each dog generates $1,200 in revenues to local merchants through lodging, fuel and dining by the dog owners while in Sunnyside. Multiply that by 150 dogs and that represents about $180,000 plugged into the local economy. Means said Sunnyside merchants such as El Valle, Country Inn and Walco are crucial to keeping the dogs and their people on the go.
Means says she hopes the chamber of commerce and the city will eventually help get the word out about the ongoing - and high level - field trials that are held here every year.
Mack Smith of Yuma City, Ariz. brought seven English Pointers to compete. He's been a regular at the trials here since 1967. The 71-year-old says he comes to Sunnyside each year because "I like the land and I like the people."
By comparison, Torben Hansen of Reno, Nev. is a relative newcomer, this being his 25th year at the championships in Sunnyside.
With six English Pointers in tow, Hansen echoed Smith's sentiments about the rolling terrain of the Rattlesnake Hills and the local hospitality.
"I've traveled to Georgia and to Oklahoma and to Alabama for competition and these are the nicest hosts I've met," Hansen said. "We get to watch their kids grow up year after year."
The feeling is mutual as far as Anderson is concerned.
"We've always had a great time with them," Anderson says of his annual visitors who hail from as far away as Kansas. "They're part of the family.