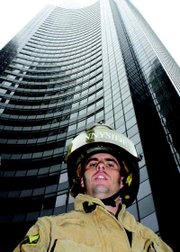 Think walking up 1,311 stairs is hard? Try doing it in a full firefighter's uniform.
That's what more than 1,500 firefighters from around the world did last Sunday when they climbed the Columbia Tower in Seattle to help raise money for the Leukemia & Lymphoma Society.
Five firefighters from Sunnyside, Ryan Savage, Tony Castillo, Mickey Gillie, Keith Johnson and Bill Harris, made the trip to Seattle for the 2009 Scott Firefighter Stairclimb.
Asked by the Daily Sun News how the climb was, Savage answered with one word.
"Hard," he said.
"It was extremely hard. I trained this year and was in great shape but you just can't train for something like this," he added.
A line of firefighters from 27 states and as far away as Germany and New Zealand, snaked around Seattle's Columbia Tower, waiting for their turn to start the climb.
Firefighters were released every 15 seconds on the fourth floor. Then the climb began.
Savage said there were 19 steps for each floor they climbed, all 69 of them. Each firefighter was wearing his or her full firefighting uniform, including the self contained breathing apparatus.
"That makes it harder to breathe," Savage explained.
He said there is a seal around the mask a firefighter wears and to be able to breathe, the mask must always have that proper seal. Something that's hard to do when running up 69 flights of stairs.
Savage said he was doing fine when he hit the 40th floor, where he changed his air bottle with the help of Sunnyside firefighters Gene Smith and Stetson McMininee. But seven floors later it was a different story.
"I hit a wall at about the 47th floor," he said. "I still had to go to the 73rd floor."
He said once he finished he couldn't see or walk straight.
"I was done," he said. "I was spent."
Savage finished first out of the Sunnyside firefighters with a time of 19 minutes. Castillo was second at 21:42. Following him was Gillie at 22:17.1, Johnson with a time of 22:42.25 and Harris, who finished in 27:50.
Their efforts helped raise more than $2,000 from Sunnyside.