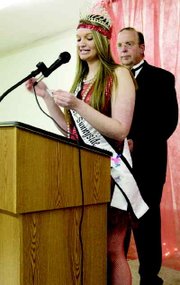 More than 150 people turned out Saturday to honor Sunnyside residents and help raise money for the Sunnyside Chamber of Commerce.
At the annual banquet several citizens were honored for their part in making Sunnyside a great place to live.
The Cornerstone Assembly of God Church was honored for its volunteer service.
Whenever asked the leadership at the church always agrees to loan out its fellowship hall for community meetings, whether the meetings are religious or regarding community safety.
The church is led by Pastor Bob Widmann.
Honored for attempting to change the social norm surrounding the areas of drug and alcohol use and abuse was the Sunnyside High School Leadership class.
For the past three years work has been continuing on this problem. Most recently, leadership students returned from a conference in Washington D.C. where they learned about anti-drug coalitions. Some events the group has been involved with this year have been voluntary random drug testing and assisting Sunnyside's Promise with the New Year's Eve event, Midnight Live.
Jose Fancisco Navarro was honored with the youth award. He has been in the Sunnyside community for 16 months and is a senior at Sunnyside High School.
He has made an impact in the community by volunteering hundreds of hours to promote education and parent involvement in their student's lives.
Garnering the health care award was Dorrie Roy. She works at Lower Valley Hospice and works in the pediatric palliative care unit.
She is constantly striving for the best in care and to provide comfort and aid to her patients in the best manner possible.
Charlotte Hinderlider was named public official/employee of the year. According to her bio, Hinderlider is always in the middle of community projects. She started the Special Olympics fundraisers for the Sunnyside Police Department and was in charge of last year's National Night Out observance.
Marti's Flower Carte was given the new business award. Owned by Marti Villanueva, she moved her business out of her home and into Sunnyside Port property where her business now encompasses 1,500 square feet. She works at the business with her daughters.
George Schroder was named past pioneer and Phyllis Schroder was given the pioneer award.
Both came to Sunnyside in 1948 and bought a farm in the area in 1952. George won the reputation of being a fair and honest businessman with his customers, this reputation followed him throughout his career. He passed away in 1988.
Phyllis worked at Lower Valley Hospice before retiring in 1999.
Educator of the year went to Barbara Quigley. She volunteers many hours for the school district and sits on the math and reading committees. She also spends much time and money supporting Outlook boosters.