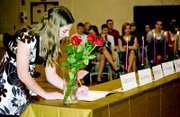 Character. Leadership. Service. Scholarship. Truth.
Eight Sunnyside Christian High School students explored the meaning behind those traits last Thursday as they were inducted into the Bene Servire chapter of the National Honor Society.
Abby Bangs, Matt Crabtree, Kathleen Dolan, Steven Broersma, Kevin DeJong, Gabrielle Filicetti, Brent Tyhuis and Analisa Van Oostrum were inducted.
The name of Sunnyside Christian's chapter, Bene Servire, means "serve well." Annaka Erickson, a senior member of the chapter, said, "This is an appropriate name for us as God asks of us in I Timothy 2:15 that we present ourselves to him as a worker who does not need to be ashamed and who wisely handles the word of truth."
Parents of the newly inducted were on hand as senior members of the chapter explained the candle presentation and what each particular candle represented.
The first candle, lit by Erickson, represents knowledge and truth. Erickson encouraged her peers to hold to the teachings of Jesus.
Taryn Sytsma lit the scholarship candle and encouraged the newly inducted to use all of the talents God has bestowed on them to serve God. "Candidates have the charge to strive continually to use their talents and academic gifts to pursue knowledge and to search above all for truth," said Sytsma.
Melanie Van Wingerden lit the candle of service. Said Van Wingerden, "Service is required of all those who, through God's grace, have become citizens of Christ's kingdom," she said.
It was up to Kaitlyn Broersma to light the leadership candle. She said, "Leadership should exert a wholesome influence on those about us; at home, at school, at church and in our communities."
Naomi den Hoed said of character, "Character is received as a gift from God and we are expected to nurture this gift for him." She then lit the final candle.
Once the eight students signed the Honor Society book as members, they presented loved ones with red roses.