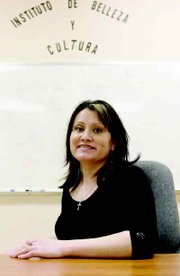 Owning her own beauty salon in Sunnyside since 2004, Blanca Rios has now added a beauty school to her salon.
Called the Instituto de Belleza y Cultura, the new beauty school has classes from 6 to 10 p.m., Monday through Friday.
Rios has owned and operated Images of Beauty in Sunnyside for the past five years and currently employs two other stylists at the salon.
The shop, at 525 S. Sixth St., is large, Rio said, so in order to utilize all the space, she started her school.
Another reason she began her school is that when other stylists would come to work for her they were always asking her questions about this type of hairstyle or what kind of color to use for various reasons. Rios said she would end up training them and that's when she came up with the idea for her school.
"I figure I might as well get paid for it if I'm going to have to teach them," she said.
Rios offers several programs at her school, including a cosmetology program, a barber program, an esthetics (skincare) program and a manicuring program. There is also an instructor program for students who have completed the cosmetology program and would like to teach one day themselves.
Rios has approval from the Washington State Board of Cosmetology that allows her to offer advanced classes. This will allow senior students to complete 10 percent of their required hours for certification by working as a stylist.
"I think that will be a good experience for them," she said.
Rios only teaches at night for now but she said she soon has plans to expand her school's hours to include morning classes.
For more information about classes at Instituto de Belleza y Cultura, contact Rios at 837-6538.