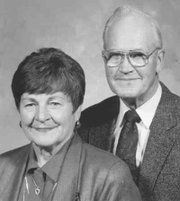 Longtime Sunnyside residents Mr. and Mrs. Russell W. Linstrand will celebrate their 50th wedding anniversary with a family dinner.
The Lindstrands wed on March 15, 1959 at the Sunnyside United Methodist Church.
The couple has three children, Lori Van de Graaf (Rod) of Sunnyside, Keri Nestor (Chad) of Tacoma, and Eric Lindstrand (Eva) of Zillah. They also have eight grandchildren: Kyle, Cole, Drew and Nate Van de Graaf, Chace and Kensi Nestor and Kaia and Lia Lindstrand.
The couple owned and operated Lindstrand Jewelers.