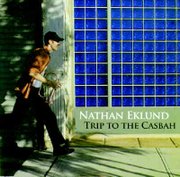 Jazz musician Nathan Eklund lives as the passion directs him. According to his website, Eklund feels the novelist Victor Hugo said it best when he wrote, "Music expresses that which cannot be put into words and that which cannot remain silent."
Eklund's music is reminiscent of a bygone area when big bands filled the airwaves. Born in Washington state, Eklund's website claims he fell in love with this music listening to his grandfather's big band play. After studying the piano at the age of six Eklund then turned his attention to the trumpet at 11, and was soon enraptured by the likes of Louis Armstrong, Dizzy Gillespie and Clifford Brown.
In 1998 Eklund moved to New York City, where he studied jazz at William Paterson University. Today he is an established trumpeter that leads two groups, the Nathan Eklund Group and the Nathan Eklund Quintet.
His latest release is Trip to the Casbah. The 10-song effort includes musicians Donny McCaslin (tenor sax), John Hart (guitar), Bill Moring (bass) and Tim Horner (drums).
The album begins with the song Toboggan Ride, a catchy, fun song that lets listeners know what they can expect on the rest of the CD.
Passing Trains, the second song on the album, begins bumping along right away. The song has a light, happy feeling.
Eklund and his group slow things down with Hand Picked from Her Garden. The song is soulful, almost haunting and mournful at the same time. The guitar work here by Hart is mesmerizing.
The coolest song on the album has to be Trip to the Casbah, part 2. The pace is picked up quite a bit and if a jazz song can rock, then this one does. The patented Eklund trumpet sound keeps this song moving and the listener is exhausted after the 6:24 effort.
Eklund's Big Bro's Backstop is a trippy, spacey effort that's busy. This is where Eklund's big band sound fuses with acid jazz. Or, I could be way off.
Over-all the album is easy on the ears and a delight to listen to. The effort is definitely worth having in any serious jazz collection.