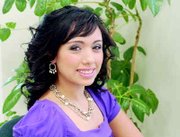 It's all about tradition and culture for Sunnyside High School sophomore Marisol Velazquez, one of the candidates for Sunnyside's 2009-10 Miss Cinco de Mayo court.
She says she's vying for the crown as a way to "follow in my traditional Hispanic culture."
The daughter of Martin and Fernanda Velazquez, the 15-year-old says she and her family make trips to Mexico City, from where her mother hails. Those trips, she said, have helped her to learn cumbia dancing, a traditional dance. "I love dancing, all types," she says. "Cumbia is the type I know the most."
Velazquez will perform a mix of Latino dances during the talent portion of the Miss Cinco de Mayo Pageant, set for Friday, April 17, at 7 p.m. in the Sunnyside High School auditorium.
If selected Miss Cinco de Mayo, Velazquez said she would focus on improving reading skills among elementary students. That includes helping to increase reading WASL scores among elementary school students.
"I want to encourage students to read more," she said. "They may think it's boring but reading is fun."
Velazquez has a 2.90 grade point average and her activities at the high school include the Latino Culture Club. She said her favorite class at SHS is world history.
She says the experience of trying out for the court has taught her how to share ideas and meet new people.
The experience as a Miss Cinco de Mayo court candidate builds on the lessons Velazquez says she has learned from her parents.
"They've shown me I need to be myself and try hard to reach my goals," she said. "They taught me to be independent."
The desire to follow in her traditional culture won't end in high school for Velazquez.
"After high school I want to go to culinary school in Portland and become a chef," she said. "I want to open my own restaurant and offer traditional Hispanic cooking and different types of international foods."