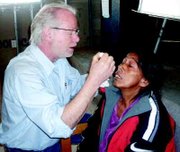 GRANDVIEW - Many citizens in the community of Puerto Penasco, Mexico had never had a vision exam or worn glasses until a recent mission trip taken by Dr. Fred Boboth of Grandview's Boboth Vision Clinic.
He said, "There were many who couldn't read the big 'E' on the optical chart, which is 20/2400."
The recent trip was Boboth's fourth in as many years and he said he enjoys helping those in need of his care because it provides him with insight into the standard of living in Mexican communities, "...things we take for granted."
He was part of a team of vision specialists, but the mission was three-fold. He said there was a team working on construction of a new church and a team busy sharing the gospel with those visiting the clinic.
"We opened at 9 a.m., but people were lined up as early as 4:30 a.m. and there was no advertising," Boboth noted.
He said other vision specialists conducted primary eye exams and patients with cataracts, special refractive issues and other special needs were diagnosed by him.
The team had approximately 8,000 pair of eye glasses with them. What was special, according to Boboth, is the fact that many of the glasses were of high quality. They featured tinting, anti-reflective coating and were good quality glasses of newer styles.
The first year Boboth traveled to Mexico, 2005, the glasses provided to patients weren't as top quality. He said some children left the clinic wearing adult glasses.
Approximately 800 patients received eye care during the mission to Puerto Penasco. "It was encouraging to see some practically jumping up and down at the new sight provided to them...they'd light up like a Christmas tree," said Boboth.
Because of this he feels satisfaction from the work. "The picture you get of such a mission is like a tent meeting with groups of people here and there, but this is so strong you have to turn people away," he shared, stating he would have loved to have treated each individual at the clinic.
Because he is a man of faith, Boboth said it is rewarding to be a part of something greater. He said the pastors at the church in Puerto Penasco will follow up with the individuals who attended the clinic, ensuring the gospel message has been provided them.
"By providing them with physical sight, the hope is they will be provided spiritual sight," Boboth said.