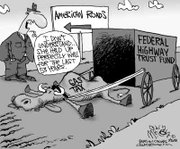 I lived in Oregon when licensing fees for passenger vehicles were set at $30 and many whom I knew felt that was reasonable. Now, the fee is set at $54 for two years, still a relative bargain.
I am proud to say, however, that Washington state legislators are not thinking of the one thing that struck me as ridiculous last week. Oregon lawmakers are considering charging bicyclists $54 licensing fees. If they have their way, bicyclists in that state will no longer be able to ride freely.
I wonder if that fee would apply to five-year-olds. And, the fee is no less than that of driving a vehicle, capable of carrying a whole family. So, essentially, a family like mine could travel in our gas-guzzler anywhere we like for the same fee as a solitary bicyclist would pay. The bikes, however, only go as far as our legs can take us and they are not a shelter from the weather. Nor can they arrive at a specific destination as quickly (I don't know anyone who can pedal 70 miles per hour).
That $54, multiplied by the five people in our family, adds up to $270. Therefore, it would be less expensive to register my vehicle.
Oregonians believe in being "environmentally conscious." Taxing citizens, in this case bicyclists, who are doing just that is just plain wrong.
I would put in storage all our bikes if Washington legislators wanted to charge us for riding them.
The Oregon lawmakers explained the reason for House Bill 3008. They said money is being lost because more Oregonians are riding their bikes and not using vehicles.
The news report I heard said funding for transportation is needed and bicyclist use the roads. As a result, the lawmakers believe those riding a bike should pay for the improvements to pathways and bicycle access.
Perhaps they are right, but I don't think charging the same fee for a bike as for a vehicle is a fair assessment.
I believe in being responsible in terms of the environment. I also believe riding a bicycle is a healthy activity. But, I also believe in fair practices when it comes to my money.
If our lawmakers ever see fit to do as the Oregon legislators are attempting to do, I will hold on to my money and let the bikes collect dust. I do need to eat!