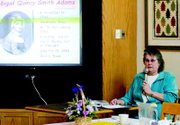 To help celebrate Women's History Month the Nouvella Club learned some fun facts about the nation's first ladies at their monthly meeting yesterday, Thursday.
The program, given by Karen Jaquish, focused on several first ladies, including Martha Washington, Abigail Adams and Dolley Madison.
Jaquish began the program with Martha Dandridge Custis Washington, America's original first lady.
Jaquish told the Nouvella Club that Mrs. Washington was 60-years-old when she became first lady. Moving to New York, it was a time of uncertainty as no one really knew what to expect from a first lady. The American people didn't want royalty governing them so the Washingtons had to be careful how they presented themselves. Although Washington had no formal duties she was expected to host lunches and dinners.
Before there was a White House in Washington D.C., Washington's first husband, Daniel Custis, used to call his home the White House.
Jaquish told the club that Washington at first felt imprisoned at her home in New York. She and George eventually moved to another house in New York, before moving on to Philadelphia to wait for the capitol in Washington D.C. to be built.
Abigail Quincy Smith Adams was the second woman to hold the title of first lady.
Although she is the second first lady, Adams is the first lady to have lived in the White House in Washington D.C. She also became the first woman to be a first lady and the mother of a president.
Not all first ladies were the wives of presidents. Jaquish said that Martha Wayles Skelton Jefferson died 18 years before her husband, Thomas Jefferson, took office. According to Jaquish, some believe that if Mrs. Jefferson would have lived, her husband never would have run for president.
Mrs. Jefferson had several children with the last one rumored to have weighed 16 lbs. at birth. This fun little fact drew gasps from the Nouvella Club ladies in attendance.
Jefferson's wife made him promise her on her deathbed that he would never take another wife. Some speculate she had an unhappy childhood with her step-mother and didn't want her children to have to go through that.
Upon his inauguration Jefferson realized he needed an official hostess so he picked the wife of his good friend, Dolley Payne Todd Madison, to serve as first lady. Her husband would eventually succeed Jefferson as the president of the United States.
Mrs. Madison was known as a woman who loved a good party and she took a keen interest in politics and wasn't afraid to speak her mind, something that didn't always sit well with her surrounding guests.
Jefferson also relied on his daughters to help with the entertaining but Mrs. Madison was the one always in charge.
When her husband became president Madison officially became the third first lady in the White House.
A pretty woman, Mrs. Madison was raised as a Quaker and was originally married to one. After his death in 1793 she married James Madison, even though politics clashed with the doctrine of being a Quaker.
It was Mrs. Madison who was first lady when the British invaded Washington D.C. and burned the town down. The White House was partially destroyed during the invasion but the Madisons got through that okay, having escaped from Washington D.C. before the British arrived.
Soon the White House was being rebuilt and the Madisons hosted a large party. This was done to show the British that the American spirit couldn't be dampened and they weren't affected by the attack.
"She was my kind of lady," Jaquish added.