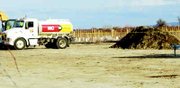 Jesus G. Villarreal, 93, of Prosser died Saturday, March 21, 2009.
He was born in Cienega de Flores N.L., Mexico.
He was a farm laborer.
He is survived by his children, Raul Villarreal and Jesus Villarreal both of Prosser, Pablo Villarreal of Grandview and Israel Villarreal of Richland; Rosalba Lemmox of Prosser, Emira Quinoez of Yuma, Ariz., Lisa Rodriguez and Herminia Rodriguez, both of Grandview; and numerous grandchildren and great-grandchildren.
Viewing will be held today March 23, 2009 from 4 to 7 p.m. at Valley Hills Funeral Home Chapel in Sunnyside and Tuesday, March 24, 2009 from 9 to 10:30 a.m. at Valley Hills Funeral Home Chapel with services being held at 11 a.m. at The Kingdom Hall, Nunn Road in Prosser with burial to follow at Prosser Cemetery.
Valley Hills Funeral Home in Sunnyside is in charge of arrangements.
More like this story