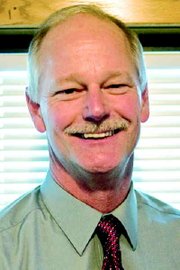 GOLDENDALE - A field of nine candidates to replace former 15th District State Rep. Dan Newhouse was whittled to three this past Saturday.
Republican precinct committee officers from Yakima, Klickitat, Clark and Skamania counties met in Goldendale to select three finalists for the appointment.
The final three candidates are Don Vlieger of Sunnyside, David Taylor of Moxee and Jacob Anderson from Klickitat County.
"Mostly it was their experience and the agricultural ties they have that seemed to be a pretty important factor," Yakima County Republican Max Golladay said of what set the three apart from the rest of the field.
Vlieger is a former Sunnyside city councilman and owns the Sunnyside Inn Bed and Breakfast.
Taylor runs a consulting firm out of Moxee, where he also has a farm. Taylor previously was a Kittitas County planning department official, serving in that capacity while Golladay was a Kittitas County commissioner.
Golladay said that connection was not a factor in the precinct officers' selection of Taylor as one of the three finalists. "That was never discussed," Golladay said.
Anderson works on his family farm on the border of Klickitat and Skamania counties, where he is general manager for the family's sawing business.
Commissioners from the four counties will meet in Goldendale on March 30 to appoint one of the three men as Newhouse's replacement. The appointee will need to run in this fall's election if he wants to retain the seat beyond 2009.
The 15th District will be happy with any of the three as a state representative, said Golladay.
"They are all three strong candidates. All have good ties to the district and understand the problems that we face," he said. "We have a winner."