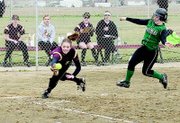 With a couple of 2B State titles under their belt, it figured the Morton Huskies would give the 1B Sunnyside Christian girls fastpitch softball team all it could handle in the season opener for both clubs this past Saturday.
Turns out, the Huskies are facing a major rebuilding year under an all new coaching staff. The end result Saturday was a pair of lopsided 18-1 and 24-1 victories for the Lady Knights.
"Morton had to bring up some eighth graders to make up a team," said SCHS Coach Sandy Harris. "It turned out to be kind of ugly.
"I think both sides were hoping it was going to be more competitive than it was," she added.
Sunnyside Christian rode the pitching of southpaw hurler Hilari Bosma in Saturday's opening 18-1 win. Bosma, a junior, scattered four hits while fanning 11 and walking only two. Bosma, too, had the key hit for the Lady Knights, socking a two-run homer in the second inning.
The winners only came up with six hits, themselves, in the opening game, but took advantage of seven walks issued by Morton and six Husky errors.
Game two was more of the same, although the Lady Knights more than doubled their hit total from the opening contest, coming through with 15 hits. The offensive leaders in Sunnyside Christian's 24-1 victory were Melanie Van Wingerden, who went 4-for-5 with a double, triple and three RBI; and Naomi den Hoed, who ripped a bases loaded triple in the fourth frame while going 2-for-4 with a total of four runs driven in.
Junior Ashley Haak, a right-hander, twirled the second game for the Lady Knights. She put up numbers similar to those of Bosma in the opener, striking out 10 Morton batters while walking only two. Haak limited the Huskies to two hits in the nightcap.
Sunnyside Christian continues its non-league schedule with a doubleheader at Naches tomorrow (Tuesday).