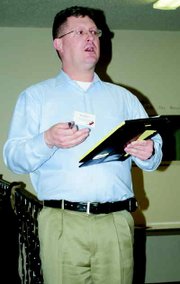 Not long ago Sunnyside's Promise was asked to put action to their words. They've been busy doing just that when it comes to planning projects hoped to impact the community's efforts to reduce the number of youth becoming involved in gang activity.
Last night, the group met with community members and together, those participating have coordinated five teams willing to address several areas of need in the community for the purposes of preventing gang lifestyles.
One of those five teams is working with Sunnyside Transformation Lower Valley in an effort to brighten up neighborhoods. According to Sunnyside Deputy Police Chief Phil Schenck, there will soon be a contest for youth to design murals in several neighborhoods. The murals project will begin soon, as they are to be judged in time for Sunnyside's annual Cinco de Mayo festivities.
"The locations have been identified and youth 18 and under will be able to sketch ideas for property owners to select from," Schenck told those gathered at last night's meeting.
The murals will be featured on properties throughout the community that have routinely been tagged by gang graffiti. After being judged, Sunnyside Transformation Lower Valley will be awarding the top artists with prizes.
"One property owner teared up, they were so happy with the idea," said Schenck.
He said the elimination of graffiti is a small part of the goal to enhance neighborhoods. The team members working on neighborhood projects are also working toward the goal of planting community gardens.
The gardens would be planted and grown by those within the neighborhood. Schenck said the group wants the community to feel a sense of pride. Once the gardens are established, those taking part in the project can either chose to use the vegetables in their own homes or sell them.
The neighborhood team is also working on the concept of creating block watches. "We know people do not know their neighbors and a once a year block watch is not enough," said Schenck.
He said the team working on this concept wants to provide community members with opportunities to get to know one another.
"A few weeks ago we were tasked to identify four ideas that could be started right away," Schenck said, stating the group has since developed five areas of need instead of four.
He said each of the teams has developed ideas that will soon benefit the community of Sunnyside, including the neighborhood projects.
An outdoor recreation team has been working to provide opportunities for youth to get involved in sports activities, such as baseball, soccer, fishing and other activities. The group wants to find volunteers willing to adopt local parks and host weekly activities at the parks.
Darla Van Corbach said her group feels if someone was willing to volunteer their time once a week for specific activities, it would benefit the youth of Sunnyside.
Another team of community members are focused on providing mentoring for youth and feels there are a number of programs it can draw from, such as a program utilized by Sunnyside's Promise in the past. Because the needs of the citizens in Sunnyside are so great, that group decided a team willing to develop ideas for interventions and advocacy needs to be formed.
Schenck told the new team members there are three types of advocacy, including a one-on-one advocacy for dealing with a person in crisis, family intervention to assist families in need of services and resources, and a neighborhood intervention.
"We want to be willing to walk them through the process," said Schenck, explaining those providing advocacy assistance play an important role in the lives of community members whom they come in contact with.
He said training will be needed for those focused on advocacy and the team needs to work on developing a vision for such an effort.
Because the group is focused on creating opportunities for the community, Schenck said each of these teams is important. He said he is impressed with an idea led by one team, which is focused on creating youth with job skills.
That group is developing a bike repair program that will help youngsters learn to fix bicycles. In doing so, the youth learn mechanical skills and earn a sense of pride in the finished product.
Schenck said projects such as the bike repair opportunities and the murals are in need of some donated items. Paint, tools and other supplies are needed.
Because the efforts are beginning to take shape and several projects will soon begin, Schenck said, "We can finally stop saying we are meeting just to meet."
He said anyone willing to contribute is welcome to donate items, and can call Lisa Fairbairn of Sunnyside's Promise at 836-8417.
Also, community members wishing to take part in the efforts of the group can do so by joining them at the next meeting, which is scheduled for Monday, April 6, at 6:30 p.m. The meetings are held at Sunnyside's Cornerstone Assembly of God Church, located on North Avenue.