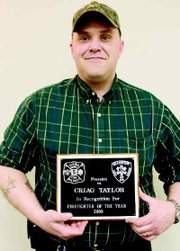 GRANDVIEW - The Grandview Fire Department held its annual awards banquet last Saturday evening, honoring firemen for their efforts in 2008.
Captain Crag Taylor was named Firefighter of the Year for the Grandview department. Grandview Fire Chief Pat Mason said several people could have qualified for this year's honor but Taylor was a well deserved choice.
"He was almost unanimously voted in by his peers," Mason told the Daily Sun News. "He has stepped up and helped out above and beyond in every capacity."
Grandview Fire Captain George Saenz agreed.
"He sets a good example," he added. "People respect him and look up to him."
Taylor is the only volunteer firefighter in the Grandview department that is a captain.
Most Improved Firefighter of the Year honors went to Erubiel Clara. This award is also voted on by the members of the department. Mason said this award is truly an earned award.
Mason noted Clara's commitment to come in and learn things over and above what would be required training for a new recruit. Mason said Clara has started driver training to learn how to operate the engines and has started an EMT class as well.
This year's top responder award went to Eric Stanton, who was also made a lieutenant at Saturday's banquet. From Nov. 16, 2007 to Nov. 15, 2008, Stanton answered 235 calls out of 600 general alarms.
The extra-mile award went to two firefighters this year. Grandview Fire Department Deputy Chief Dave Smith and Saenz were both given the award by Mason. The Chief said that he was off for a couple of months in 2008 due to personal reasons and Smith and Saenz stepped in and ran the department efficiently.
"They worked well as a team and did what needed to be done," he said.