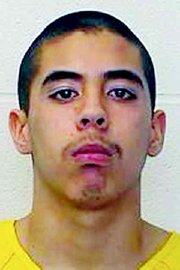 Sunnyside police are still looking for a juvenile suspected of gunning down Eric Vargas in Sunnyside last November.
A warrant is still outstanding for the arrest of 17-year-old Armando H. Gonzalez Jr., aka A.J. Charges he is facing are murder in the second degree, assault in the first degree and unlawful possession of a firearm.
The warrant stems from an incident that happened Nov. 10, 2008 in the 400 block of South 13th Street.
Witnesses say a vehicle driven by Vargas pulled up behind two vehicles heading south on 13th Street and stopped at the stop sign at Edison Avenue. It is believed that occupants in Vargas' vehicle got out and started throwing rocks at the vehicle that Gonzalez was in.
Police believe Gonzalez then exited the vehicle he was in and started firing several shots at Vargas' vehicle. Vargas and a passenger in his vehicle were hit several times with bullets. Vargas then was able to drive to Sunnyside Community Hospital.
He died later that day and his passenger eventually recovered from his wounds.
Gonzalez's last known address was in the rural Sunnyside vicinity. Anyone with information on the whereabouts of Gonzalez is asked to contact the Sunnyside Police Department at 836-6200.