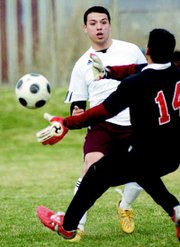 GRANDVIEW - With some of its key players returning from eligibility issues, the Grandview High School boys soccer team picked up its first win of the season, blanking East Valley 4-0 yesterday.
The defending CWAC league and district champions had started the season 0-3 until last night's win. Although the Greyhounds weren't feeling any pressure, Coach Anne Holden said everyone was happy to get the season's first win.
"We finally showed up," she said.
Holden said she had been waiting for this year's team to discover its identity and said her squad took some big steps to finding that out last night.
Helping with that identity was keeper Teclo Perez, who returned from a two-game absence. Sami Villa was also back in action, after serving a one-game suspension.
Holden said having Perez back was a huge factor in the game. She said having Perez guarding the net allows Rodolfo Barriga to play up front, which just seems to bring some extra out from the team. Barriga filled in for Perez during his absence.
The 'Hounds began last night's match being more aggressive and attacking.
"The guys were more aware where they needed to be," Holden said.
Things paid off early for Grandview in the sixth minute of play when Barriga scored off an assist from Eric Hernandez. Grandview was stretching East Valley's defense and then punched it up field when they found an opening.
"We drew them wide and then came back inside for another 1-2 and Rodolfo put it away," Holden explained.
The 'Hounds made it 2-0 in the 15th minute of play when George Magana used the windy conditions to his advantage.
Magana was hitting into the keeper on a corner kick and managed to float the ball up and sneak it in under the post.
In the 19th minute of play Sami Villa gave Grandview a 3-0 lead when he took a pass from Bryan Vasquez and scored. Holden said the ball was on the right side of the pitch when it was flipped to mid-field, where Vazquez picked it up. He flipped the ball between two defenders to a slicing Villa, who did the honors.
Osler Orozco closed out the scoring for Grandview in the 33rd minute of play when was able to collect his own blocked shot and put it in for the score.
"That's the value of following through," Holden added.
The Greyhounds played the first half with the wind to their back but faced the wind in the second half. To combat that the Greyhounds stopped several offensive attacks by the Red Devils and got to more 50/50 balls to keep East Valley from scoring.
Soon Holden was able to rotate some guys around and get some of the younger players some playing time.
Grandview took 16 shots on goal in the match. East Valley had four shots on goal. Perez recorded four saves for Grandview. Marine Partida and Andre Uribe combined for 12 saves for the Red Devils.
Grandview (1-1, 1-3) will face the Ephrata Tigers at home in a non-league contest this Thursday, March 26, at 4 p.m.