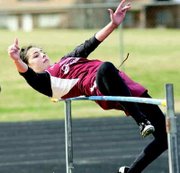 GRANDVIEW - The Grandview High School boys and girls track teams combined for a third-place finish at a home invite yesterday, Tuesday.
The Greyhounds scored 127 points in a field of 11 schools, not far behind second place East Valley (144) and invite winner Riverside Christian (150).
"It was a lot closer than I thought," said Grandview track coach Tyson Tucker.
The invite featured typical throwing and running events, as well as some unique competitions, such as co-ed relays and a throwers relay.
A bright spot for the Grandview boys was Joe Babcock, who won the boys triple jump with a mark of 42-5.5 and earned second place honors in the long jump with a leap of 19-6, just seven inches off the winning mark. Storm Shea was fifth for the Grandview boys in the triple jump with a mark of 38-4.5.
Another individual winner for the Greyhound boys was Joel Mendez, who captured top honors in the 3,000 meters with a time of 10:23.75. Teammate Koty Kollmar was third in 10:57.34. Mendez was also third in the 1,500 in a time of 4:47.90.
Viano Perez was third for Grandview in the 100 meters, posting a time of 11.32. "That was a good time for him," said Tucker.
Chris Hernandez earned third-place honors for the Greyhounds in the 800 meters, posting a time of 2:13.4.
Tim Taylor was sixth for Grandview in the 110 high hurdles in 18.85, and Kollmar was sixth in the 300 intermediate hurdles in 51.25. Trevor Gamboa also posted a sixth-place finish for Grandview in the high jump with a mark of five feet.
Michael Conradt earned a second-place honors for the Mabton Vikings in the boys high jump, leaping to a mark of 5-4.
In relay events, the Grandview boys were second in the sprint medley (1:45.9), just four seconds behind first-place Riverside Christian), second in the 4x400 (3:49.97), eight seconds behind Lyle and sixth in the 4x100 (47.59).
In throwing events, Grandview's Joe Taylor was third in the javelin with a throw of 150-6. Mabton sophomore Gus Martinez placed first in the javelin, throwing 160 feet for the Vikings.
"He's an athlete that we have high hope for this season and expect him to make a trip to State," Mabton Coach Scott Sexton said of Martinez.
In girls competition, Kinzi Poteet led the Lady Greyhounds with second-place honors in the javelin (108-4.5), eight inches off the winning mark and a third-place finish in the discus with a throw of 106-10. Poteet was also third in the shot put with a mark of 32-8.
Grandview's throwing marks were in general down from this past weekend's meet that set several personal bests.
"The throwers didn't do quite as well as they did on Saturday," Tucker said. "It's hard to come back so soon from those kind of efforts."
Sara Vasquez sparked the Mabton girls, earning first place honors in both the 1,500 (5:20.85) and 800 (2:41.8).
Adriana Ramos was fourth for the Lady Greyhounds in the high jump with a leap of four feet. Teammate Katie Eucher was sixth in the 3,000 meters in 13:12.09.
In the girls 100 high hurdles, Marlee Andrews was fifth for Grandview in 17.50. Teammate Emily Caraway was fifth in the 100-meter dash with a time of 13.60.
In girls relay competition, Grandview was third in the 4x100 in 57.84 and fourth in the throwers relay, 1:05.87.
The Grandview boys and girls combined to take third-place honors in the co-ed relay with a time of 1:54.25.
Tucker said the invite was a chance to see some of the potential in Grandview's track and field athletes.
"It was a solid overall effort," he said. "It's still early in the year, and it was pretty windy out there, but you kind of start to see which kids are going to step up for you, which kids you can rely on."
Grandview hits the track again on Thursday, April 9, for a league meet at Prosser.