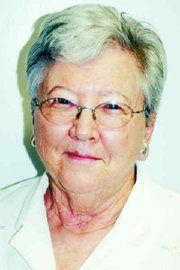 After what she describes as much thoughtful consideration and prayer, longtime Sunnyside School Board Director Joanne Kilian has decided to call it a day. Make that more than 11,500 days.
Rather than throwing her hat in the ring for re-election come June, Kilian will instead hang it at the door at the Denny Blaine Building.
Kilian made the announcement not to seek re-election at last night's Sunnyside School Board meeting.
"When I started, I had no idea I'd live there forever," she said with a laugh.
Kilian came to the board in November 1977, which prompted teasing from fellow school board director Stephen Carpenter. "Was our president (Miguel Puente) even born then?"
Despite the gentle teasing and camaraderie, Kilian said giving up the post she's been elected to for 32 years is tough.
"It was my extra-curricular life. I enjoyed it, so I stayed with it," she said. "It's a difficult decision."
Kilian said 32 years ago, she just happened to live in the area for the director two position and somebody just happened to suggest she run for the position. Kilian said only twice in the past 32 years has she run against an opponent.
There have been dramatic changes in the school system since 1977, namely the fact that everything is so data driven now, she said. "You find out what you're doing, prove what you're doing and learn what to do better."
She added, "It's much more driven by learning."
It used to be, she said, that teachers entered the classroom, shut the door and taught the kids.
"We didn't go into classrooms...now it's much more open, collaborative work," she said.
Kilian said state requirements have changed so much in the last several years that it "made the schools dig in deeper to make kids learn."
Today, she said, education for the teachers themselves is ongoing-they are coached on a regular basis.
School systems, she said, "Are much more outcome driven."
One thing Kilian's particularly proud of is the way Sunnyside voters and the school district have maintained the buildings. "I'm very proud of our buildings being in top condition."
Kilian also notes that she was instrumental in the construction of the auditorium.
"I'm a fan of the auditorium," she said. "I pushed for that during the remodel last time...It's a vital part of the community."
She's also a big fan of Sun Valley Elementary School.
"This kindergarten school out there is going to make a big difference, as they'll be starting out with a better base."
Kilian said last night at the school board meeting that she's announcing her intention not to run now because she wants to give people who live in area two a chance to research and consider running for the position.
"I'd like to see two or three people get excited about it, get involved with this board, this superintendent and this district, and find out what they need to know about it," she said.
According to Sunnyside School District Community Relations Coordinator Curtis Campbell, candidates can declare their intention to run for the post via mail as early as May 18 to the Yakima County Auditor. Candidacy can also be declared at the auditor's office June 1-5.
&nbsp