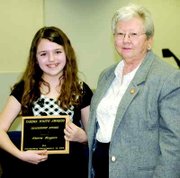 Outlook Elementary School fifth grader Sierra Rogers was recognized at last night's Sunnyside School Board meeting for winning a Yakima Youth Award for leadership.
Nominees for the annual awards are solicited throughout Yakima County.
At last night's school board meeting, Rogers' principal, Robert Bowman, explained the significance of her recognition.
"Thirty-three people were nominated (in her category), and she was the only elementary school student," he said. "There were five total winners (and she was among them)."
In the nomination letter, Rogers, who received the honor earlier this month, is described as a natural born leader, dreamer, bright but humble and smart as a whip.
Rogers is the president of Outlook Elementary School's ASB council.
Bowman recounted for school district officials how Rogers once broke up a fight at a school bus stop and "actually talked an angry mother down who was at the scene."
Recounted Bowman, "The mother came in the next day and informed me that the president of the student council was an amazing student and told me the details of what had happened."
Bowman also attributes Rogers' creativity as an impetus behind the school's use of www.edvsuned.net, a website for public service announcements accessible to the entire school district and community.
Sunnyside School Board Director Joanne Kilian presented Rogers with a pin at last night's meeting.