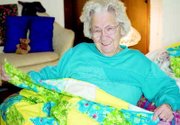 You can't keep a good woman down and the same holds true for 87-year-old Ava Borden, a Sun Terrace resident who recently hand sewed 15 quilts and donated them to Hillcrest Manor elders.
"I hemmed 'em by hand," says Borden. "I do everything by hand. I have a sewing machine, but it don't work."
Borden had some help in making the quilts from friends Garnetha Burnes and Elvaree Steinkamp. Steinkamp spent an afternoon helping Borden and Burnes is her "go-to gal," driving Borden here and there, and even bringing sewing supplies to Borden's Sun Terrace apartment when needed.
"We have more fun than anything," said Borden.
When asked how much time she devotes to hand sewing the quilts, Borden responds, "Gosh, I don't know. One night I got to hemming and I looked up at the clock and it was 2 (in the morning). Didn't bother me, I had the T.V. on and it was rattling away."
Borden finds such joy and contentment in her stitches that even her doctor has taken notice. "She said, 'I don't know what you started doing, but keep at it girl!'."
This isn't the first time Borden has thrown herself into a massive sewing project. Last year, she made quilts for the veterans hospital in Walla Walla. Burnes said the two were chatting and Borden expressed the desire to donate her time closer to home.
Donating her time close to home has always been a priority for Borden.
She says that back when Hillcrest Manor was built, it was OK to go in and help beautify the residents by giving them perms. She recalls going into Harry Walters' drugstore in Sunnyside and once he found out what she was up to, he donated the perm kits. "He ended up giving me something like 34 or 36 perms out of his store," she recalls.
Of Hillcrest Manor in the early days, she says, "I volunteered down there a lot, helping with the laundry and getting things straightened out, this and that." With a giggle, she adds, "It was either that or play dominoes with my husband."
She was also instrumental in getting Trinity Baptist Church built. She said during a senior citizen birthday bash and watermelon feed, the idea sprang about to build a church. She says, "Come to find out we had three Baptist preachers right there. I said, 'Let's have a sermon,' and went and grabbed my Bible. Then we got to talkin' about a church. Then we got to talkin' about Sunday School. That's how that church got started, right there at that watermelon feed."
Borden has always marched to the beat of her own drum. She says her Southern mother taught her how to hand sew when she was just four years old, because little girls were to be prepared to be housewives. Borden wasn't interested.
"Somehow, that just didn't suit me," she says. "So when I was 18, I went and tried to sign up for the Army but they didn't want me. I was too short (Borden proudly declares her height as 4 feet, 11 and one quarter inches)." As she turned to leave, Borden, who was sporting braids down to her hips, was called back. A man wrapped up her braids on top of her head and declared that she was then tall enough to join the civil service.
"My poor mom and dad didn't want me to do it. They wanted me to settle down and get married. But I couldn't see the sense in that."
When Borden was 26 years old, she met the love of her life, Milton Borden. Of their short courtship, she says, "Hey, it didn't take me long to figure out he was the man I wanted to spend the rest of my life with." The feeling was mutual. Mr. Borden no sooner met Ava then declaring to his brother, "I'm gonna marry that little blonde in six months or less, just you wait and see."
Her husband has long since passed away. Borden keeps busy by doing, doing, doing.
Her current project is hand sewing a quilt for her 24-year-old granddaughter. When her granddaughter found out she'd sewn her "Southern stitches" on 15 quilts for Hillcrest Manor elders, she said, "Grandma! You need to make me one, too. I get cold!"
Once that's complete, what's up next for this spry elder?
"Oh, I intend to go ahead and keep doing it (sewing). If I can gather up enough scraps, I'll do another and maybe raffle it off to buy more material!"