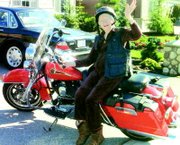 OLYMPIA - Although she now lives with her daughter in Olympia, Alma Mitchell Read Coate Wilson spent much of her 100 years in Sunnyside.
She was born April 11, 1909, the first daughter of Joe and Josie Mitchell, and was raised on a Sunnyside farm. The Mitchells had four other children, Carroll, Stanley, Dick and Lola.
Wilson received her teacher's training at age 18 and graduated from Ellensburg Teacher's Training School in 1927. Her teaching career in Sunnyside provided her with a salary of $2 per hour that first year.
In 1931, Wilson married a Sunnyside elementary school principal, Chet Read. Together, they raised three children, including Carole, Stuart and Roger. Roger passed away in 1950. The couple divorced years later.
In 1957, Wilson at the age of 48, earned her Bachelor's degree in education from Central Washington State College. To do so, she attended many years of summer school classes. She spent 25 years educating Sunnyside and Seattle elementary school students.
As an educator, Wilson assisted the Everett schools in developing its curriculum and completed her career as a counselor for junior high school students in the Highline School District.
Wilson retired in 1967 and married Gilbert Coate, a rancher from Protection, Kansas. The couple moved to Panorama City in Olympia and Mr. Coate passed away at the age of 98. She married again in 1992, wed to retired YMCA Director Lee Wilson, who later passed away.
She went on to live at an independent living center, where she enjoyed playing bridge and leading an active lifestyle for 17 years. She drove until she was 95-years-old.
Just last year, her daughter, Carole Brooks, decided Wilson's influence would be positive and asked her to move in. Now, they are looking forward to her 100th birthday celebration.
Brooks said, "Mom will be riding a motorcycle to her birthday party, leading a parade of well-wishers."
Wilson shared what she believes is the secret is to her longevity and said, "Positive attitude, good genes, lots of vitamins, a half of fresh grapefruit every morning, no smoking or drinking and a loving spiritual belief."