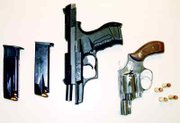 Shortly after 2:30 a.m. this morning, Thursday, Sunnyside Police Officer Johnnie Gusby initiated a traffic stop on a 1999 Dodge Stratus in the area of South Sixth Street and Harrison Avenue in Sunnyside.
The driver, 25-year-old Ismael A. Rodriguez of Sunnyside, was taken into custody on a charge of driving with a suspended license in the third degree. Upon searching his vehicle, police say, two stolen firearms were recovered.
Rodriguez, a convicted felon, was transported to the Sunnyside City Jail where he is being held for investigation for two counts of possession of a stolen firearm and two counts of illegal possession of a firearm.
Police say the firearms were a Smith and Wesson 380 revolver and a 9mm Walthers P99.
In other police news since yesterday, two reports of theft and one burglary have been investigated.
The thefts include two shoplifters and the burglary occurred in the 1300 block of South Sixth Street.
Police have also dealt with one report of fraud, four juvenile problems, one sex offense, two reports of loud music, two 9-1-1 hang up calls, one runaway juvenile, one suspicious person or situation, five four traffic stops, one report of trespassing and one violation of a no-contact order.
Police also assisted four agencies and one citizen, provided one extra patrol and one welfare check.