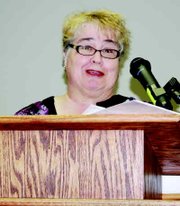 GRANDVIEW - The history of the Lower Yakima Valley can be traced back to individuals and families willing to homestead in what was once an unsettled land.
Grandview's Cookie Shannon this past Tuesday night provided community members with insight into the rich history of many of those first homesteaders to the area, including families still deeply ingrained in municipal government, businesses and schools. Shannon was a guest speaker at Tuesday's Grandview centennial historical presentation.
"There are two words-immigration and emigration. Most of us are both," said Shannon.
She explained many factors lead people to leave one home for another. Immigrants leave one country to settle in another and there are often "push" factors, such as religious persecution, natural disasters, political instability, a lack of employment or rights that lead to immigration.
What attracts immigrants or emigrants to settle in one location or another often are referred to as "pull" factors. These factors may be higher pay, lower taxes, weather, employment availability, education or political stability.
There are a multitude of reasons for Grandview's rich heritage that include many of the factors Shannon listed.
She said in doing her research, she found the stories uncovered to be highly interesting.
"Though many family groups came to Grandview from other countries and from other parts of America...for example, the large Charvet-Meneger clan who came originally from France and then from Canada...most of those who came here seeking a new life were individuals or families. Some of them became leaders in the community and some of them more quietly made their mark on Grandview and the surrounding area," said Shannon.
A little known story she found particularly interesting was that of Richard Payne, who once owned property on Grandview's Hillcrest Road, which stretched east to Judd Hill.
Payne worked in the coal mines of Cle Elum prior to homesteading in Grandview. What fascinated Shannon was the fact that he was a man of color and she stumbled upon the information while conducting her research.
Payne sold his property in 1910 to Dave and Helena McLellan and later owned the Globe Hotel at the corner of East Franklin Avenue and South Seventh Street in Sunnyside. Payne died either in March of 1928 or 1929 of "religious mania." Shannon said the research showed two different years. "It's a mystery I want to solve," she told those at last night's event.
There was another early black family that immigrated to Grandview in 1891. The Washington family donated land for one of the area's first schools, Waneta School. Mrs. Washington served on the school board for 15 years and the family homesteaded, raising corn, potatoes, hay and operating a small dairy.
The Washingtons built their first home in Grandview in 1903 after having lived in a shanty. Their daughter, Vivian, was born in 1904 and graduated from Grandview as an honor student in 1919. She married Philip Sears.
Together the couple owned and operated the first gas and grocery store between Yakima and Prosser. The couple owned two other businesses.
Vivian left her mark on Grandview, "making civil rights a daily practice, ceasing to do business with firm and suppliers who made derogatory remarks about blacks."
The Sears family has one remaining surviving family member in Grandview. Paul Sears graduated with the class of 1959 and was one of six Sears children.
There were several families of German and Russian descent settling in the Lower Valley in the 1920s and 1930s. A majority settled in the Toppenish and Wapato areas, but some placed roots in Grandview.
In 1920 the population of Grandview was 1,011 and six passenger trains served the community each day. The city was the fourth largest fruit shipping center in the Northwest and that success led new families to take interest.
The Heintz, Ehert, Fischer, Kramer, Mehrer, Merk, Meyer, Puterbaugh and Ragsdale families all settled in Grandview during the 1920s and 1930s. Each of the families have German or Russian heritage and many of these immigrants have descendents still in the community.
The Puterbaugh family is one such family that has made an indelible mark on the community.
Ernest C. Puterbaugh built a home on 80 acres of land along what is now Puterbaugh Road. After clearing the land of sagebrush, Puterbaugh began cultivating productive crops. Hops were first grown by the Puterbaughs in 1932.
Other families mentioned by Shannon include the Ramsey, Van De Wall, Weber, Haasze, Babcock, Fleming, Lowe, Marshall, Mains and Purbaughs.
The Horner family first made its home in Grandview in 1910. The family has established a number of businesses in its nearly 100 years of living there. Shannon shared a story from the Horner's granddaughter, Judith Horner Durand, "During prohibition, the oldest son had a brew going in the cellar. One day, he got into it too much and my Grandfather Elmer got mad and took an ax and broke the brew up. The wine went down the cellar drain out into the other drains in town and the whole town smelled like a brewery."
Shannon had much more information on the Charvet and Meneger families. "Dave (Charvet) was able to provide me with their written histories," Shannon noted.
The Menegers first arrived in the Mabton Belma area after having received a glowing report of the weather in the Lower Yakima Valley. The area was reported to be "The land of milk and honey," in a letter written to the Mengers.
The family was impressed once they arrived and enjoyed a banquet for 25 cents,
Once the family built its home, many fields were cleared of sagebrush and the Menegers planted crops like alfalfa and orchards of fruit.
The Menegers, as of 1904, had a prosperous farm on which they were able to hunt duck, geese and rabbits.
Because of their prosperity, the Menegers sent a letter to the Charvets in Canada. The Charvets had seven boys and each was given 20 acres of land once the family settled in the Lower Yakima Valley area.
"All became good farmers," said Shannon. She said fruit was not as successful for the Charvets, and hops became the crop that helped them prosper.
Because the family was large in size, one priest at Grandview's Catholic Church noted that he would never have to worry about filling the pews because the Charvets took care of that for him.
Shannon had difficulty finding accounts of the Hispanic immigrants to Grandview. She asked a guest speaker to attend last night's meeting, but he did not arrive.
Jessie Palacios stepped to the podium to provide his personal account of his own experiences in the absence of the other speaker.
Palacios was born in Texas and his family, like many others who followed the crops, immigrated to the Lower Valley in the back of a truck.
He first arrived in Grandview in 1945 as a baby and said, "Everyone wanted to hug me and my mom said she didn't have to worry about babysitters."
Palacios' family worked planting hops his first year here and they stayed through the harvest. However, the family continued to follow the crops for many years after that.
His wife Christina's family was also from Texas and moved to the Lower Yakima Valley in 1951 following a big freeze that caused many Texas crops to be lost in 1950.
Her parents worked in hops and her father later obtained a job at Welch's.
Because Palacios had moved a lot, he did not graduate high school, but did earn his GED while working at U and I Sugar. Because he had his GED, he was able to become a police officer in the city of Grandview in 1966. He has since served as a city councilman, mayor, county commissioner and fish and wildlife officer.
Because of the Lower Valley's many immigrants, the culture is diverse and rich in heritage. Shannon said there is still much to be learned, but encouraged the citizens at last night's presentation to write down their own stories for preservation.