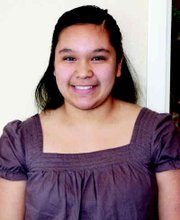 Lots of youngsters dream of one day becoming astronauts and traveling to space. For one lucky Sunnyside student that dream just moved a little closer towards reality.
Hannah Fernandez, an eighth grade student at Sunnyside's Sierra Vista Middle School, was recently selected by the Office of Superintendent of Public Instruction to attend the U.S. Space Academy this July in Huntsville, Ala. The academy is held at the historic Marshall Space Flight Center and will last a week.
Fernandez will be trained in much the same way as NASA's own astronauts are. She will get to participate in launching simulated space missions and will even experience the feeling of weightlessness.
Fernandez is one of only six students from the state of Washington to be selected for the academy. She was chosen based on evaluations she received from her teachers and school counselor, and a personal essay she wrote outlining her specific accomplishments and interests in math and science.
"It's quite an accomplishment to be one of only six students from the state to receive this opportunity," said Lupe Fraga, a counselor at Sierra Vista Middle School. "I'm really proud of her."
When Fernandez was asked if she was excited to be able to go to space camp, she replied, "Yes, I can't wait."
All costs of the trip will be paid by OSPI's Migrant Education Program.
The Marshall Space Flight Center provided the rockets that powered Americans to the moon, developed the space shuttle propulsion system, and managed the development of Skylab, Spacelab, space station nodes, the Hubble Space Telescope, the Chandra x-ray observatory and many scientific instruments.