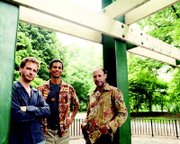 Releasing their debut album is The Fly Trio, made up of Mark Turner on tenor and soprano saxophones, Larry Grenadier on bass and Jeff Ballard on drums.
The CD is titled Sky & Country and is the second effort of the highly regarded collective trio that drummer Ballard has memorably described as, "an intimate band with teeth."
According to a press release from ECM Records, Fly Trio seeks equal rights for all instruments. The saxophone seeks parity with the bass and drums, and its refusal to fill all the space with sound brings another set of tensions into play.
Writer Nate Chinen observed in a JazzTimes article, "This is music that expands and contracts, effortlessly and dramatically and that balances the cerebral components of group improvisation with the more gut-level element of groove."
The group first surfaced as the Jeff Ballard Trio in 2000 and then became Fly with the release of their first album, Savoy Jazz.
Grenadier and Ballard played music together as teenagers in California in the early 1980s and gigged together often.
In the band Fly Trio, all members contribute and write the band's music.
"Sometimes it's the saxophone carrying the melody, other times in the bass or drums," said Turner. "We spread out the frontline duties among us."
There are three Ballard tunes, four by Turner and two by Grenadier on Sky & Country.
The album was recorded at New York's Avatar Studio in February and June of 2008. The group is currently on tour.
There are nine tracks on the CD with the longest song clocking in at 10:55 and the shortest song, Elena Berenjena, just a mere 5:15.
I like this album with its twists and turns, pulling you one way then easing you back in another, before starting the whole process over again.
Dharma Days, the fifth track on the album, makes me think of characters like Dean Moriarty and Sal Paradise or Ray Smith and Cody Pomeray.
Jazz fans will not be disappointed by the Fly Trio's effort and I think Sky & Country will certainly attract and recruit some new members to the Jazz cause.