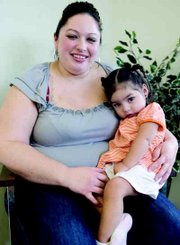 Alianette Damian, known as Alia to family and friends, has big brown eyes a person could get lost in. She likes to laugh and her eyes light up when she sees her older brother coming towards her.
Her younger brother is a different story. Although there is love between the two siblings he likes to crawl all over Alia, something she doesn't like. When she sees him coming towards her she likes to let out a scream of discouragement.
All in all Alia would seem to be like any other little girl, except she's not.
Alia is two and a half years old and suffers from the condition of Polymicrogyria, a developmental malformation of the brain characterized by an excessive number of small convolutions on the surface of the brain.
Alia's mother, Nicole Huffman of Sunnyside, told the Daily Sun News that she started getting worried about Alia when she was five-months-old. She just wasn't doing what other babies were doing at that age.
After getting an MRI done it was determined that Alia had Polymicrogyria. Once that was determined, Alia's first blood sample taken when she was born was tested and it was positive for cytomegalovirus, or CMV.
This is a virus that Huffman was exposed to when she was pregnant with Alia.
Huffman said that between 50 and 80 percent of humans are infected with this virus and most do not experience any symptoms, as is the case with Huffman.
But for pregnant women being exposed to the virus in the first three months of their pregnancy, it's possible that the child could develop Polymicrogyria, which is what happened to young Alia.
Alia can't walk, can't crawl or sit up, and she can't eat. She had to have a feeding tube installed recently in her stomach. She also can't speak.
"She has too much muscle tone in her legs and arms but not enough in her neck or back," Huffman explained.
Little Alia can't do all those things but she can sure smile, and that smile absolutely lights up a room.
What's frustrating to Huffman is how much is known about this condition. She said she hasn't been able to get any answers from doctors about what to expect because of how little is known about Polymicrogyria.
She said one doctor in Chicago has been studying this condition since the 1970s and is one of the few experts. He will be hosting a PMG conference in Los Angeles in June. She is hoping a spaghetti dinner fundraiser will help with the costs she must bear to attend the conference.
The spaghetti feed will be held at the Granger Lion's Club, located at East A Street in Granger, on Saturday, April 4, from 3:30 to 7 p.m. Cost is $5.50 per plate or $20 for a family of five. Additional plates are $2.50.
The cost of the conference is $175 for adults and $75 for each child. It will cost another $35 to make an appointment with the doctor who has been studying this condition for so long.
It's that meeting that has Huffman so excited. She feels she will finally be able to get some answers and will learn what to expect in the future.
She also wants to bring awareness to CMV, which she thinks should be a test for all pregnant women.
Besides the fundraiser she said several other groups are helping as well. Huffman said the Granger royalty will hold a car wash to raise money for the trip. Some families are holding yard sales and she said students in special education classes in the Granger School District are making cookies and selling them.
All this is a lot to take for the single mother of four but she feels it has made her a better person.
"I've changed for the better," she said. "It's made me grow up and is pushing me to finish school."
Huffman is a full-time student at Yakima Valley Community College and works full-time at Learning Care in Granger. When she graduates Huffman said she wants to be a special education teacher.