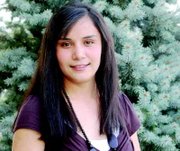 Encouraged to become a candidate by one of the current Sunnyside Miss Cinco de Mayo court members, Tatiana Hernandez is one of eight girls seeking the crown.
Hernandez says the experience of being a candidate is "helping me get out of my shell and talk to more people." She added, "It's taught me to work better with other people."
The 16-year-old Sunnyside High School sophomore is the daughter of Santiago and Apolonia Hernandez.
"They're really helping me," Hernandez said of her parents' support of her candidacy.
Hernandez maintains a grade point average of 3.6 while keeping a busy schedule of involvement at SHS in Pep Club, the Latino Culture Club, tennis and bowling.
In her spare time, she also enjoys creating landscape paintings.
If selected as Miss Cinco de Mayo, Hernandez said her community service project would be to "encourage little kids to make healthier food choices." She says she is concerned about the rates of obesity among young children, and the health complications that can occur as a result.
As part of her community service, Hernandez said she'd like to focus at first on Chief Kamiakin Elementary School, where she was once a student. She'd also like to collaborate with the Sunnyside School Board to look for ways to cut down on the calories for children.
Hernandez hopes to continue pursuing the health field beyond the Miss Cinco de Mayo program, as she plans to attend the University of Washington after high school to become a dentist.
During the Miss Cinco de Mayo Pageant, set for Friday, April 17, at 7 p.m. in the Sunnyside High School auditorium, Hernandez will perform a Mexican folkloric dance in traditional costume.
She says she's learned traditional values from her parents.
"They've taught me to respect people, to be honest," she said.