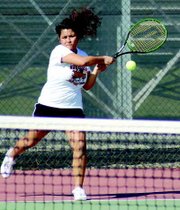 The Sunnyside Grizzlies girls and boys tennis teams lost 4-3 and 5-2, respectively, to the visiting Davis Pirates yesterday.
One Lady Grizz singles player, No. 4 netter Avalon Valencia, and two doubles teams were able to overcome their Davis opponents.
Valencia earned a 6-4 win in the first set against Brooke Lybeck of the Pirates. Lybeck fought back for a 6-4 victory in the second set, but Valencia was able to score another victory (6-4) in the third set.
Sunnyside No. 1 girls doubles teammates Regina Mendez and Kiana Ramos defeated Davis' Katherine Maier and Amanda Brock 6-1, 6-0, and Rebekah Paulakis and Jessie Roberts of the Lady Grizzlies fought for a 7-6, 6-4 victory over Vikki George and Lindsey Smith in No. 3 girls doubles play.
No. 1 girls singles player Madonna Gonzalez of Sunnyside lost 6-0 straight sets to Briana Tamaki of Davis, and No. 2 girls singles netter Sasha Castro was handed a 6-1, 6-2 defeat by Kate Kunkel-Patterson of the Pirates. In No. 3 girls singles action, Hannah Marro of the Lady Grizzlies suffered a 7-6, 6-1 loss to Davis' Kim Herrmann.
The lone Lady Grizzlies doubles team to fall (6-4, 7-5) to the Pirates was Daniela Ramos and Alissa Martin, who faced off with Katy Joch and Hannah Besso of Davis in No. 2 doubles action.
In boys action, one Grizzly singles player and one doubles team were able to net a victory.
No. 4 boys singles netter Jessie Leija of Sunnyside defeated Pirate David Paolella 6-2, 6-0, and Grizzly No. 1 doubles teammates Matt Johnson and Jorge Pacheco were able to earn a 6-3, 6-1 win over Davis' Ben Jach and Evan Silvers.
Sunnyside No. 1 boys singles player Jacob Cruz suffered a 6-0, 6-1 loss to Ben Chang of Davis, Grizzly No. 2 singles netter Anthony Rodriguez was defeated 6-0, 7-5 by Chris Parrish of the Pirates, and Jeromy Rodriguez of Sunnyside fell 6-0 in straight sets to Sebastian Barrett of Davis in No. 3 boys singles action.
William Coleman and Martin Rogers-Reyes of Davis handed Grizzlies Randy DeRuyter and Joey Zijlstra a 6-2, 6-0 loss in No. 2 boys doubles action, and Sunnyside No. 3 boys doubles teammates Spencer Jaquish and Matt Hatfield battled Kyle Ketcham and Dan O'Connell of Davis. The Grizzlie netters suffered the 6-4, 7-6, (11-9), (10-7) loss after rallying back and forth.
The Grizzlies return to the court when they travel to the Yakima Tennis Club Tuesday, April 7, to face off against West Valley.