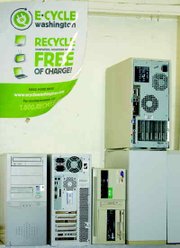 Ever wonder how to properly dispose of your computer and monitor? Wonder no more. Sunnyside Christian Thrift Shop recently signed on to be an "e-cycle" site through the E-Cycle Washington program.
Manager Diane Plooster said the Christian thrift store has only been signed up to be an e-cycle site for two weeks, and already one load has been picked up. "I've got another load ready to go," she added.
In the past, the store would accept used computers, but that stopped because some computers still had personal information on them. "We didn't want to be responsible for that."
With the E-Cycle Washington program, thrift store volunteers need not worry.
According to the Department of Ecology's Mile Kuntz, the recycled electronics are taken to one of two processing centers in either Seattle or Vancouver, where they are then dismantled and recyclable parts, like plastic, glass and metal, are removed. Non-recyclable toxic parts, like mercury lamps and circuit boards, are then sent off to people who are qualified to handle those materials.
Plooster said there's always been a need in the Lower Valley for a drop off point. The store has fielded many calls about electronics over time.
Now, the thrift store accepts computers, monitors and television sets. They do not accept printers, mouses, battery packs or keyboards.
Sunnyside Christian Thrift is open Mondays through Fridays from 10 a.m. to 5 p.m. and on Saturdays from 10 a.m. to 3 p.m.