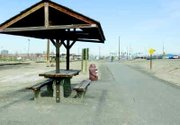 The Lower Yakima Valley Pathway Foundation is seeking community organizations to adopt pats of the 6.3-mile pathway alongside Yakima Valley Highway between Sunnyside and Grandview.
"We're looking for people to help clean up the pathway," said Theron Lochner, a member of the foundation. "A lot of garbage is thrown along the highway, it's a big job."
Lochner and Maxine Van de Graaf, secretary/treasurer of the foundation, said they are looking for businesses, organizations and any others who would like to help.
The sections of the pathway that are in the city limits of Sunnyside and Grandview are maintained by each respective city. The foundation is looking for volunteers to help maintain the section of pathway that lies in rural Yakima County.
"The problem is the weeds," Lochner said.
He did say that Yakima County will help control the weeds this spring and summer but volunteers could help as well.
"Many hands make light work," Van de Graaf added.
Lochner and Van de Graaf said they want the groups that adopt a section of the pathway to help check for any maintenance issues, pick weeds and paint over any graffiti.
"Just keep their section nice," Van de Graaf said.
The foundation has money for paint to take care of the graffiti abatement.
Any interested parties can contact Locnher at 837-2763 or Van de Graaf at 837-2856.