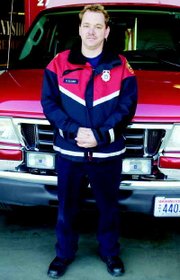 Sunnyside Firefighter Dennis Blumer was recently recognized by the National Registry of Emergency Medical Technicians for maintaining his national certification as a paramedic for the past 20 years.
According to the executive director of the National Registry of Emergency Medical Technicians, this is an honor held by very few.
To maintain his status, Blumer must complete regular continuing education courses each year. That comes out to about 48 hours of classes each year.
On top of that Blumer must keep up on his skills maintenance, something that isn't a problem with his job.
"It doesn't seem like it's been 20 years," Blumer said. "I can look back and see how the procedures have evolved over the years."
When Blumer first started working as a firefighter/paramedic he said the mother may I rule was still in effect. This meant that the paramedic had to call back to the hospital before administrating types of drugs. He also remembers having to send an EKG tracing over a cell phone to the hospital to get permission to work on the patient.
Things have changed since then. Now, with better training, paramedics are given more freedom to make these decisions.
Blumer has his national certification, something that's a bit more complex than just having a state certification.
"At the national level there is more training in pediatrics, behavioral issues and more training on trauma," he said.
Blumer has been with the Sunnyside Fire Department since 1996. Although he's not one to pat himself on the back, Blumer does realize keeping his training up for the past 20 years is an accomplishment.
"It's a nice honor," he said. "I appreciate being recognized."