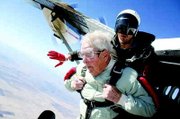 ARIZONA - Sunnyside's Bruce Mercer gave new meaning to "braving the skies" this past February when the octogenarian decided to jump out of an airplane.
Mercer, a longtime Sunnysider and previous owner of Mercer Oil, the Shell distribution, trekked to Sky Dive Arizona for an afternoon outing.
Fascinated by the constant arrival of people dropping out of the sky, Mercer felt compelled to give it a try.
After signing several sheets of legal disclaimers, he was suited up and transported to a jump plane.
He and 15 others took to the sky. When it was Mercer's turn, his tandem instructor fastened himself to Mercer's jumpsuit, leaned forward and then there was nothing but blue sky above and earth below.
For the next 60 seconds, he traveled to the ground for a freefall of about 120 miles an hour. His tandem instructor even did a rollover and spun Mercer around.
At 4,000 feet, the instructor pulled the rip cord releasing the parachute, ending the exhilaration of the freefall.
As they made a perfect landing, Mercer was greeted by his wife Jerrydean and proclaimed, "That was tremendous!"
At the age of 89, Mercer is the oldest jumper at Sky Dive Arizona.
Mercer has been proudly showing off his sky diving certificate and DVD of his adventure, which he deems a "leap of faith."