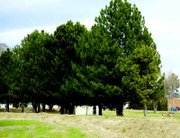 GRANDVIEW - For the 12th consecutive year, Grandview has been designated a Tree City USA by the Arbor Day Foundation because of its commitment to forestry.
"A community, its elected officials and its citizens that provide needed care for its trees deserves recognition and thanks," said John Rosenow, chief executive of the Arbor Day Foundation.
"Trees are a vital component of the infrastructure in our cities and towns, and they also provide economical and environmental benefits," he continued. "Cities that are recognized with a Tree City USA designation go to great lengths to plant and care for the community forest."
In order to receive the honor, Grandview is required to have a tree board or department, a tree care ordinance, a comprehensive community forestry program and an Arbor Day observance and proclamation.
Grandview not only met the criteria, but the Arbor Day Foundation lauded the city for recognizing that trees promote healthier communities, moderate the climate, reduce the heat island effect from hot pavement and can promote an increase in property values.