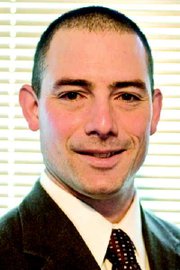 GOLDENDALE - County commissioners from four counties met here yesterday, Monday, and appointed David Taylor of Moxee to replace Dan Newhouse as a 15th District legislator.
Taylor was sworn into office yesterday in Goldendale.
Newhouse left the post earlier this year to head up the state's ag department. Taylor, who operates a consulting firm and farm in the Moxee area, was previously one of three finalists Republican precinct committee officers selected from a field of nine.
Taylor's previous experience also includes serving as a Kittitas County planner while Yakima County Republican Chair Max Golladay was a Kittitas County commissioner. In addition, Taylor ran Golladay's unsuccessful State Senate campaign in 2006 for the 13th District.
He won the appointment yesterday with eight votes, well ahead of the four votes for runner-up Jacob Anderson, who works on a family farm and runs a custom sawing business in Klickitat County.
Former Sunnyside City Councilman Don Vlieger was the third finalist and did not receive any votes.
Vlieger said the county commissioners focused on a candidate with an agricultural background. Vlieger, who put 2,000 miles on his vehicle in the last two weeks covering the 15th District, said he'll support Taylor in the primary race this fall.
"It was a great process. I totally support David," Vlieger said. The Sunnyside Inn Bed and Breakfast owner said he will not seek the post this fall.
"Absolutely not. If he's opposed (by a Republican) it won't be by any of the nine (candidates). We promised not to," Vlieger said. "David's going to have enough trouble with such little time before the primary."
Taylor's first order of business will be taking Newhouse's seat in Olympia.
With 25 days left in the current legislative session, Taylor said the state budget, along with education and health care issues legislators are facing, will be the major issues to catch up on.
Taylor says it was his agricultural background and county government experience that helped him earn the appointment.
Once the legislative session is over in less than a month, he'll head out to the campaign trail and try to retain the seat.
He said his focus in the fall elections will be trying to return land use controls to locally elected officials, instead of having policy dictates issued by state agencies. Water, land use and economic development are also issues he'll hit during the campaign.
"I'm a firm believer that county and city officials are best suited to meet the needs of their specific constituents," he said.