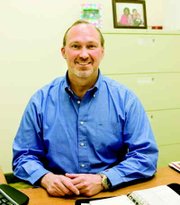 Alvin Froehlich, the new director of sales and marketing at the Best Western Grapevine Inn in Sunnyside, believes that his prayers were answered when he was offered the position.
Hailing from the city of Naches, Froehlich said after spending 15 years in sales he switched to the comfortable life of driving bus for the Naches School District. With seven children and number eight on the way, Froehlich decided he needed to find something else to do to increase his wages for the new bundle of joy.
He wasn't sure if he wanted to get back into sales or use his instrumentation degree from Perry Tech, so he basically left it up to God.
At a support group for parents who home-school their children, Froehlich threw out a prayer request that was answered by Tom Denlea, the owner of the Best Western in Sunnyside.
"He came up to me and told me he wanted me to meet with his manager," Froehlich said. "We had a wonderful three-hour interview."
After some training Froehlich began his official duties the beginning of March.
After an initial hesitation to move to Sunnyside, Froehlich said he has taken to the community.
"You only hear the bad things about this area via the media," he said. "When I came here I found that not only was the community close but the people are very positive and actively involved with rebuilding the community.
"The things going on here have greatly encouraged me," he added.
Froehlich mentioned Transformation Sunnyside, Sunnyside's Promise, the police department and the chamber of commerce as positive influences in the community.
"I was floored," he said of the work those groups do. "There is an openness in the community to invite God in their work and activities here.
"I feel that God has opened the door and placed me here," he added.
As for his duties as director of sales and marketing, Froehlich said his job is to invite people to stay at his home away from home. Upper management wants to build a staff that wants to make the motel a home away from home.
"My job is to communicate that," he said.
The key to success he believes is to forge ahead and build relationships with other businesses in the community. Denlea also owns Best Western motels in Prosser, Toppenish, Yakima and Colfax. His motel in Yakima has a relationship with Apple Tree Golf Course and Froehlich said he is eager to duplicate that relationship with Black Rock Creek Golf Course in Sunnyside. He has already begun putting together packages for wine tourists as well.
"The key work is hospitality," he said. "We want them to come back. Developing these relationships with area businesses will help with that."